Tuesday, August 30, 2005
Hurrican Katrina Help
In the wake of the devastation left by hurricane Katrina, we are posting this link for all those who wish to donate funds to the American Red Cross. Monies are absolutely necessary to help combat the dire straits so many persons have been left in as a result of this disaster.
https://www.redcross.org/donate/donation-form.asp
Monday, August 29, 2005
Court TV Ditches Dimond, Head Investigative Reporter
August 29, 2005
By Anthony Crupi
Court TV reporter Diane Dimond was let go last week as the network continues to restructure its daytime programming.
In a note to members of an online Yahoo! Message board devoted to her, Dimond said that Court TV decided to cut her loose, even though her contract wasn't due to expire until December.
"Court TV told me on Wednesday that they planned to dismantle my Investigative Unit, and Friday was my last day there," Dimond wrote.
In a statement, Court TV on Monday confirmed that it had let Dimond go: "Court TV recently re-branded Court TV News and as part of that effort is restructuring its investigative unit formerly headed by Diane Dimond." The network added that Dimond had been a "tremendous asset ... and was key to the network's successful coverage of the Michael Jackson trial."
Dimond said she'd use her newfound free time to work on her chronicle of the Jackson case, Be Careful Who You Love, which hits bookstores Nov. 15. (The title comes from the King of Pop's musical disavowal of patrimony, the 1983 hit "Billie Jean.")
Her note also suggests that Dimond will continue to make the occasional cable news appearance. "My friend Nancy Grace says now that I have some free time she expects me to join her on her CNN show from time to time," Dimond wrote.
In July, Court TV split itself into two distinct units --a daytime slate dubbed "Court TV News" and a prime-time and weekends block tagged "Court TV Seriously Entertaining." The division was effected in order to underscore the network's transition toward presenting original unscripted fare and issue-related movies at night, while emphasizing its news and trial coverage in mornings and afternoons.
------------------------------------
There is a God. We are most grateful that Diane Dimond has been let go. Of course, we also know that she will now go full steam ahead with yet more hopes to cash in on the only meal ticket that has fed her career: Michael Jackson.
Mr. Jackson, wherever you are, we wish you a Happy Birthday and consider Ms. Dimond's firing a very nice gift indeed.
tHe cUttInG eDgE
Thursday, August 25, 2005
Cutting Edge Call for Journalists
Greetings,

The cUttInG eDgE is very much interested in dialoguing with credentialed journalists about the state of journalism and reporting, especially after the Michael Jackson trial, through an E-View format (email interview).

The format will be very simple: the Cutting Edge will send participants seven questions via E-View. If you feel that you can provide insight and clarity to the issues relative to journalism and reporting, please do the following:

1.) You must email the Cutting Edge----->thecuttingedge2004@yahoo.com. We do this to preserve your privacy and freedom on the forum.

2.) You must email using your professional contact email address (i.e. PunkMoney@washingtonpost.com)

3.) You must include your name and a brief listing of your professional experience and achievements


Once all responding parties have been cleared for participation, a confirmation email will be sent and questions will be submitted within (2) weeks.


Thanks so much for your consideration!

Tuesday, August 23, 2005
Courtesy of the Smoking Gun
Jackson Accuser's Mom Hit With Fraud Rap
Prosecutors: Woman repeatedly lied to secure welfare handouts
AUGUST 23--The mother of the Los Angeles boy who accused Michael Jackson of sexual molestation was charged today with welfare fraud and perjury. The five-count felony indictment charges Janet Arvizo with a single fraud count and four instances of lying to secure nearly $19,000 in welfare payments to which she was not entitled, according to the below court filing. Arvizo, 37, who is scheduled for an
September 7 Superior Court arraignment
, is pictured at right in a mug shot from a 1998 arrest. During her testimony at the
Jackson trial
, Arvizo cited the Fifth Amendment in refusing to answer questions about how she succeeded in obtaining welfare payments while having more than $30,000 in the bank. During the defense case, a Jackson lawyer walked a California Department of Social Services representative through Arvizo's welfare applications, pointing out how she repeatedly failed to disclose, as required by law, assets and financial assistance she was receiving. Among many devastating brickbats tossed at Arvizo during the Jackson trial, the welfare fraud allegations were particularly damaging since they appeared to be backed by government documents (not to mention that Arvizo refused to address them for fear of incriminating herself). (5 pages)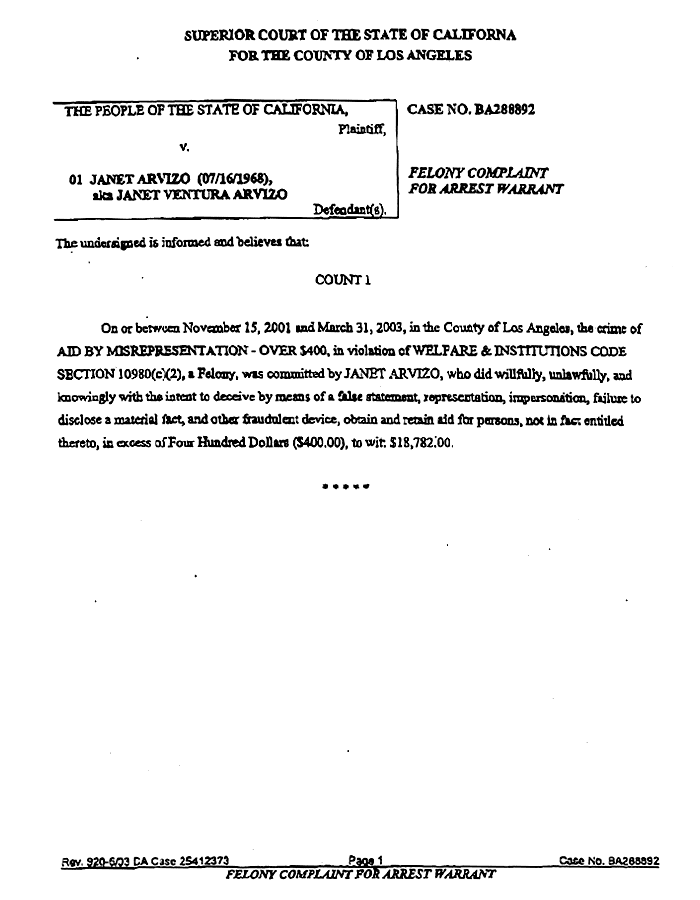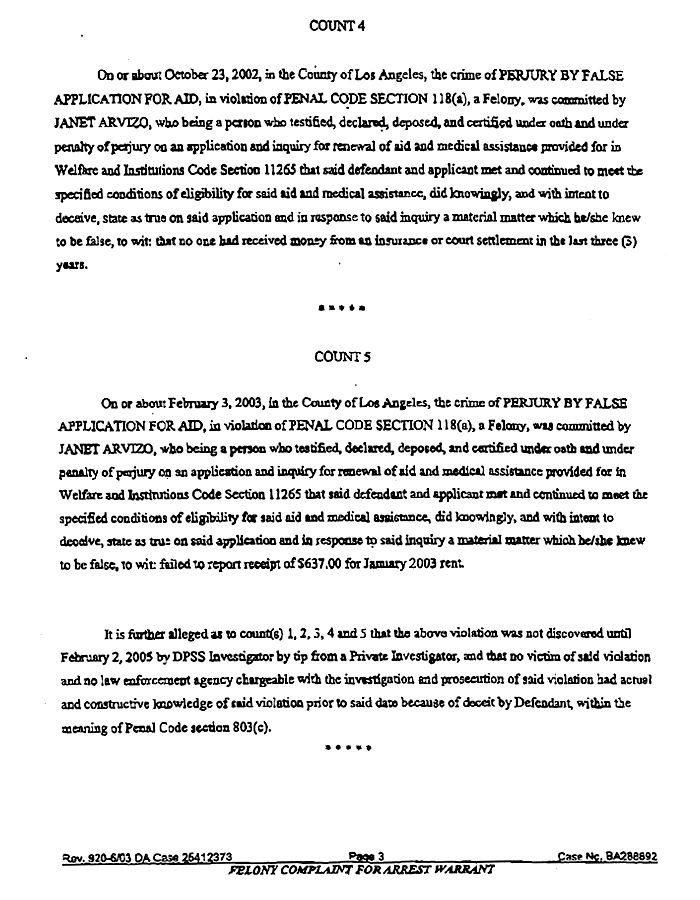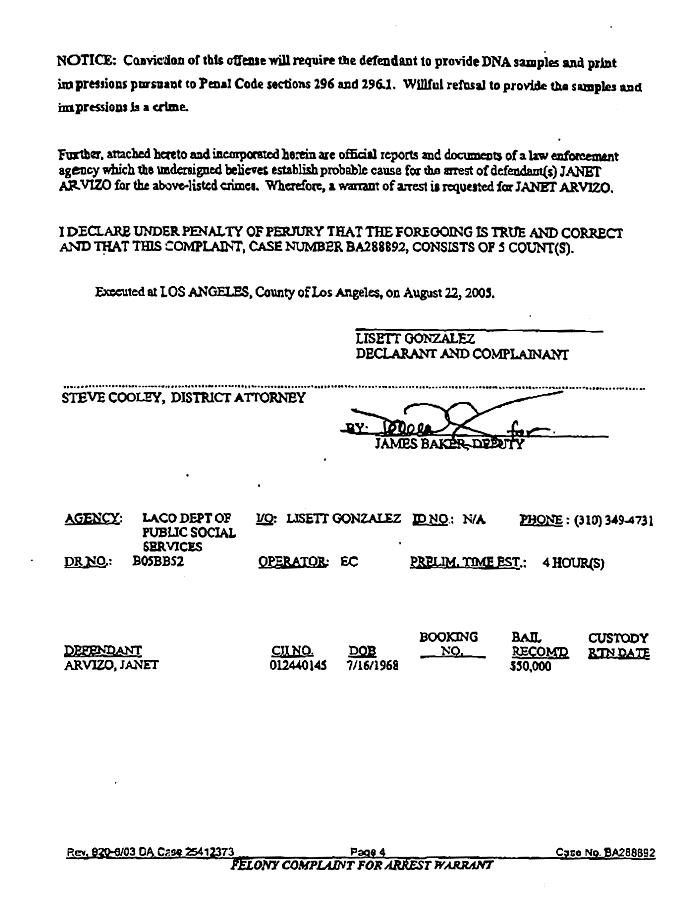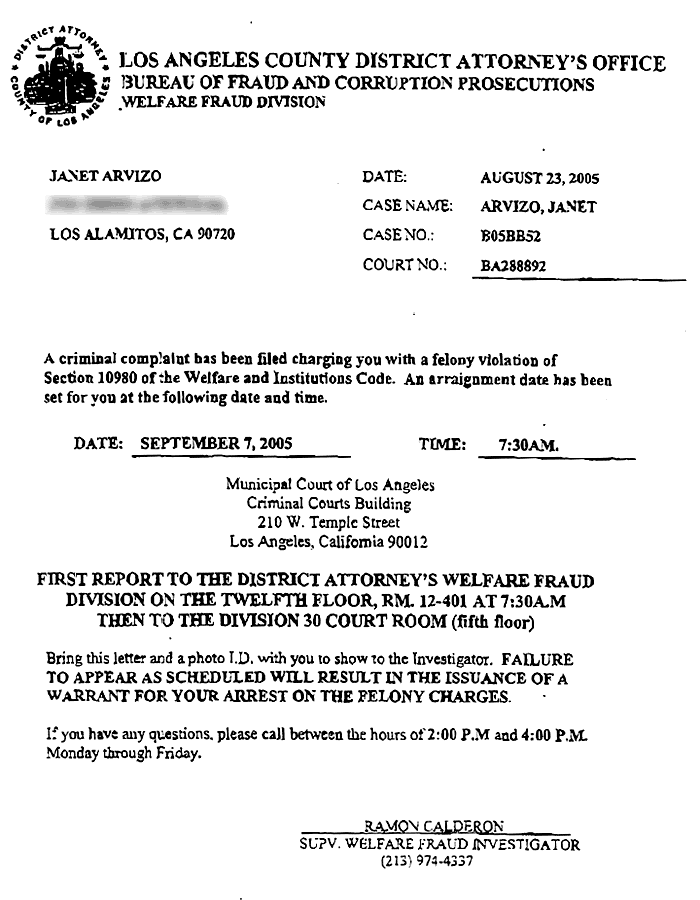 Janet Arvizo Charged
Janet Arvizo Charged
Friends, this story is long overdue. Now let's see if the "fair and balanced" media covers this trial and scrutinizes Janet Arvizo's questionable past as much as they gobbled up ever baseless rumor about Michael Jackson.
-------------------------------
Mother of Jackson's Accuser Charged
Aug 23 3:57 PM US/Eastern
By LINDA DEUTSCH
AP Special Correspondent
[url=http://www.breitbart.com/news/2005/08/23/D8C5NV8G0.html]BREITBART---AP NEWS[/url]
LOS ANGELES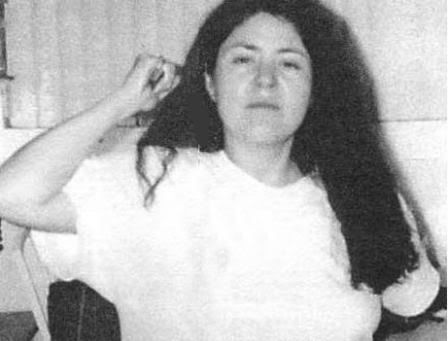 The woman whose son accused Michael Jackson of child molestation was charged with welfare fraud Tuesday for allegedly collecting nearly $19,000 in payments while making false claims.
At Jackson's trial, the woman invoked her Fifth Amendment protection against self-incrimination and refused to testify about the welfare matter.
But Jackson's lawyers presented evidence that she and her family had received a $150,000 settlement in a 2001 lawsuit against a department store at a time when she was claiming to be poor. They also showed the woman was receiving money from her boyfriend to pay the rent on her apartment.
The complaint filed by the Los Angeles County District Attorney's office alleged that the woman hid from authorities the fact that she had received the settlement and also failed to report the receipt of $637 for payment of her rent in January 2003.
The Associated Press is withholding the name of the woman to protect the identity of her son.
The woman was a key witness for the prosecution against Jackson, who was acquitted of all charges. Many jurors said her lack of credibility on the witness stand was a major factor in their verdict.
Copyright 2005 The Associated Press. All rights reserved. This material may not be published, broadcast, rewritten or redistributed.
Friday, August 19, 2005
The Politics of Gender and Media Coverage
Media bias has never been more suspect and more obvious than it is today. With so many self-proclaimed journalists running from network to network, interjecting themselves into every high-profile case that can be found, one could hardly fail to notice the thirst for attention and profit that may drive this generation of pundits. One of the most insidious elements slithering through the halls of American network television is that of the radical feminist-turned-television commentator.
Let us say from the outset that we are not discussing or critiquing feminism as a whole. On the contrary, we celebrate the great gains that trailblazing women have made in the last one hundred years that have strengthened and enlivened our nation.
What we are critiquing, however, is a very specific and very prominent group of "commentators" who appear to take a particular liking to assuming that all high-profile men who are accused of crimes (especially if those crimes are against women or children) must be guilty.
Remember O.J. Simpson? The former football star, irrespective of what one believes of his guilt or innocence, was particularly savaged in the media after he was accused of murdering his ex-wife Nicole Brown Simpson and Ron Goldman. Some critics suggested that Simpson was automatically condemned for the crimes because Simpson had allegedly taken the life of a white woman, something that has historically gotten black men lynched—even with nothing more than a baseless accusation. Whether these critics were right in their assessment is a matter for the reader to decide.
Note that we are not arguing for or against Simpson's innocence or guilt. Our concern is that the minute the jury exonerated Simpson of the murders, the floodgates were opened to radical feminist talking heads (mostly white), espousing how the jury "got it wrong" and how Simpson got away with murder, leading to the nasty habit among this same group of television commentators to automatically assume that any high-profile men accused of crimes (especially those against women and children) must be guilty, even before any evidence has been presented or the case has been prosecuted.
Kobe Bryant was branded a rapist without little or no investigation into the questionable deposition that his accuser gave to police. Had they paid attention to the conflicting statements as well as her behavior the night of the alleged rape, they would have shut their mouths and allow the prosecutor to do his job. Whatever happened to innocent until PROVEN guilty?
We have certainly been asking this question for nearly the last two years as pop music legend Michael Jackson was raped over the coals of radical white feminist talking heads like Wendy Murphy who constantly called Jackson a "Teflon child molester" who gets away with abusing young boys. We are dumbfounded that so many supposedly well-educated, articulate, and "fair-minded" commentators could be so determined to believe Jackson was guilty that they would even intentionally misrepresent court testimony and evidence to the contrary to make themselves feel better.
When it came to Jackson trial coverage, the approach of this crew was simple: whenever someone says something I don't like, criticize them and move on to someone who agrees with me. For example, CNN's Nancy Grace, never at a loss for words when it comes to trumpeting Jackson's obvious guilt before viewers, was careful to block any opinions concerning the Jackson case that violated her own presuppositions:
----------------------------------------------------------
GRACE: Very quickly, to Robi Ludwig. Right now, I believe public sentiment is still on Michael Jackson`s side.
ROBI LUDWIG, PSYCHOLOGIST: I agree with you.
GRACE: Nobody wants to believe he would do this. They would rather believe this family is on the take.
LUDWIG: And there's a lot of information about this family that would suggest that. The mother is not entirely credible. This boy was a very sick boy. The family initiated contact with Michael Jackson.
GRACE: The kid had cancer.
LUDWIG: Yes, but he was the one the family initiated the contact with Michael Jackson. It wasn't like Michael Jackson weaseled his way into this family and seduced them. So there's a lot to be suspicious about.And I think every time that Michael Jackson comes off -- now, granted, we know that he's bizarre and looks different. But he comes off as fairly well in terms of being appropriate.
GRACE: What?
LUDWIG: Yes, in terms of being...
GRACE: Wait, I've got to go to Jane Velez-Mitchell.
[i]
---------------------------------------------------------------
Clearly, Ms. Grace did not take too kindly to the psychologist's assessment of Jackson. She immediately segued to Jane Mitchell-Valez, someone more sympathetic to her position. How professional and balanced is that?
What happened to Jackson is that he got caught in the crossfire of gender politicking of radical feminism run amuck. Jackson is perhaps one of the most unique high-profile men in the world. He is a man with a certain tenderness that attracts children but frightens dirty-minded adults. He is not a brute, not a womanizer, and from accounts that we have heard from women who have known him, a gentleman. He was the traditional target but he was still a man. And that was apparently enough for some folks.
Instead of being judged on the preponderance of the evidence, these media quacks vilified Jackson, reporting every disgusting angle that disparaged his character and made him look guilty. Their behavior towards men is no better than the toxic misogyny that exists in our culture even today. They only mirror their ignorant male counterparts who degrade and devalue the opinion, intellect, and worth of a woman.
Their hypocrisy is just as destructive. The likes of Murphy, Grace and Allred claim to be advocates for oppressed women and children. We challenged Grace to be fair in reporting the evil deeds of both men and women. She failed to do this over a week ago when former fugitives and accused murderers George and Jennifer Hyatte were on the loose. On her August 9, 2005 show, she spent much of the program detailing the husband's criminal record. It was psychoanalyst Bethany Marshall who reminded her that the woman was "homicidal too."
[ii]
Gloria Allred's motives also come into question. She has no apology for representing former Scott Peterson mistress Amber Frey as the young lady did interview after interview for money, promoting her book about her experiences with Peterson. Nevermind that she and her lecherous lawyer abused the justice system by erroneously creating the idea that she was a material witness for the prosecution when in fact she was not. We wonder how promoting an admitted adulteress's book and profiting from it could honor the memory of Laci Peterson and her unborn son, the real victims in this case.
Conclusion

Something must change. As stated earlier, we are not arguing against women's rights or the feminist movement. However, we are pushing for a more fair-minded approach to reporting the news. We would like to express our summation with a few closing maxims we believe would be helpful to stem the tide of gender politicking:
We must operate from a basic assumption that both women and men are equally capable of good and bad behavior. Neither group has cornered the market on either sphere of human reality.
Representing the "oppressed" is never an excuse---legal or otherwise—to commit libel or slander against anyone else.
All accused persons are deemed by the Constitution innocent until proven guilty. That does not dissuade persons from holding their own opinions but their personal opinions should not be allowed to drown out those who voice different ideas.
There must be more ethnic/racial gains made when it comes to commentary news programs. While we are encouraged by the number of racial minorities (mainstream term, not ours) on television as correspondents and reporters, there are very few racial minorities who are given an entire program to lead and facilitate discussions on the issues of the day.
Men and women must make truth and social justice for all persons their highest aim.
Power, regardless of who has it, can either be a destructive intoxicant or a tool of liberation. Both genders need not abuse it.
tHe cUttInG eDgE ©2005
All Rights Reserved 2004-2005
------------------------------------------------
[i] Nancy Grace Transcript. February 27, 2005. Accessed from
http://transcripts.cnn.com/TRANSCRIPTS/0502/25/ng.01.html
[ii]
Nancy Grace Transcript. CNN Headline News. August 9, 2005. Accessed from http://transcripts.cnn.com/TRANSCRIPTS/0508/09/ng.01.html.
Friday, August 12, 2005
The Monster Is Alive: How the Media Help Feed Jury Misconduct in the Jackson Trial
I find it very hypocritcal of some journalists to decry the selfishness and unprofessionalism that former Jackson jurors Eleanor Cook and Ray Hultman have demonstrated since they themselves help to create this monster of profiting from civic duty. Isn't it interesting how the same talking heads who were stunned to stupidity when the jurors did the right thing, basing their 14 "NOT GUILTY" verdicts on the evidence and not on tabloid opinion, are now the first ones to cock their shotguns at Ma and Pa Kettle? After all, these are the very kinds of people some of you were hoping would get on the jury and nail Jackson. Unfortunately for you and the prosecution, the evidence against Jackson was as weak as my great-Uncle's bladder and the whole case was rightly put to sleep.
But let's be real here.
The bottom line is had the media been fair and balanced in their coverage of the Jackson investigation and trial, there would have been a greater degree of accountability slapped on the heads of these renegade jurors. Such accountability would prevent them from repeating the words of embittered and stuttering prosecutors (Tom Sneddon) and leaning on shady and sleazy Hollywood "insiders" like Larry Garrison (who never has seen a high-profile case he couldn't take advantage of).
Findlaw and FOX legal anaylis Jonna Spilbor voiced some major concerns during the Scott Peterson case about profiting from trials (
source
):
------------------------------------------

Should jurors and lay witnesses in criminal trials be permitted to turn a civic duty into cold hard cash?

In my opinion, the cons clearly outweigh the pros. The First Amendment issue is one for the courts to decide; but the policy issue, at least, clearly counsels against allowing profit from either testimony or jury service.

A criminal defendant is entitled to a fair and impartial jury of his peers. When the prospect of money enters in the jury box, it's not a stretch to surmise that some juror, somewhere, will be more interested in the prospect of cold hard cash than in the thankless job of jury duty. But jurors should be thinking about justice - not how they can profit. One thing is certain: justice should never be for sale.

What about witnesses? They, too, should keep their eye on the ball: They ought to be thinking of telling the truth, not of maximizing their profit. When money enters the picture, there is a very real potential that "star witnesses" with dollars signs in their eyes may color or create "evidence" to maximize their profitability.

After all, much like real celebrities, these courtroom "stars" are made, not born. They know more lurid testimony will make their stories more saleable. The temptation to exaggerate -- or outright lie -- may prove irresistible.

A spate of high profile criminal trials is now under way, or soon to be -- including Robert Blake's, Michael Jackson's, and Phil Spector's. Don't be surprised when attorneys begin asking witnesses to produce bank statements -- so that cross-examination may show secret book deals, or other payments, that suggest that the witnesses have something -- other than their oath to tell the truth -- on their minds.

-------------------------------------------
Spilbor is dead on and it's too bad that she and others like her don't get enough face time on worthless news networks like Court TV and FOX. Like a deadbeat dad who conveniently forgets his children, the media seems to have forgotten the bastard offspring that their intentionally careless and biased coverage.
Whether it's Ma and Pa Kettle Jurors or Amber "the Homewrecker" Frey, no case is too tragic to make a buck off. They all should be ashamed of themselves.
---------------------------------------------------------------------------------------
We will provide links to articles that speak to the issue of the juror misconduct in the coming days.
Friday, August 05, 2005
American Justice?
Just when you thought the American just-us system could not get any more pathetic, word came down today that two jurors of the Michael Jackson trial are penning books in which they claim that they believe that Jackson is guilty (
here
).
Now let's get something straight: I am all for doing an honest day's work for an honest day's pay. I am all for being enterprising and entreprenurial. But when it comes to jurors who acquit a defendant and then turn around to write a book claiming that they felt he was guilty but that they were bullied, I have to put my foot down. Why?
Because it would mean that they intentionally let loose someone they believed to be a child predator. At best,Ray Hultman and Eleanor Cook are no better than Janet Arvizo or a child molester for that matter. Why? Because all the aforementioned have a clear pattern for misusing and abusing children for their own pleasure and gain. The majority of the jurors in the case have decried the notion that they bullied anyone into exonerating Jackson and are planning to write their own book which will explain why they voted as they did.
As for the media, their reaction is nothing short of ridiculous, long on hyperbole and short on substance. So desperate for any Jackson related news that they will even entertain the likes of faux-Jackson family friend
Stacy "the Clown" Brown
, a man as morally bankrupt as Enron is financially. He literally betrayed his family friends (who were not, according to sources, Michael Jackson). What Brown is doing is prostituting himself to anyone with anything negative to say about the singer. Why? Because negativity sells, at least in theory. By the way, Brown's collaborative "effort" with former Jackson employee Bob Jones, fell faster than Joan Rivers' face. Nobody is buying his crap at all.
I can only hope that more even handed recountings of the trial will surface even as Sneddon obsessee Diane Dimond puts the finishing touches on her book.
But something tells the Cutting Edge that those who are intent on laughing all the way to the bank will get a rude awakening in the coming months. We can't wait!